The allure of the Cartier Tank is undeniable. Its legacy, spanning over a century, is steeped in luxury, sophistication, and an old-money charm that few timepieces can rival. The Cartier Tank isn't just a watch; it's a statement, an emblem of refined taste and timeless elegance. Inspired by the Renault FT-17 tanks of World War I, its rectangular silhouette has become synonymous with high-end fashion and has been sported by royalty, celebrities, and style icons throughout the decades. 10 Cartier Tank Affordable Alternatives continues.
However, its luxury comes with a price tag that might be out of reach for many, especially during the holiday season when budgets can be tight. This is where affordable alternatives come into play. These watches capture the essence and charm of the Cartier Tank without the hefty cost, making them perfect gifts for loved ones. Gifting such a watch is not just about telling time; it's about bestowing a piece of luxury, a hint of that old-money vibe, without breaking the bank.
If you're in love with the Cartier Tank's design but are looking for more budget-friendly options, you're in luck.
Table of Contents
Here are the 10 Cartier Tank Affordable Alternatives
Seiko SUP880:
A homage to the Cartier Tank, the Seiko SUP880 captures the essence of the Tank's design with its rectangular face and Roman numerals.
Bulova Classic 97B162:
This watch blends modern and vintage aesthetics, making it a statement accessory.
Peugeot 2051GBK:
Known for its reliability, the Peugeot 2051GBK offers a sleek design reminiscent of the Cartier Tank.
Hamilton Boulton:
With its vintage design and modern features, the Hamilton Boulton perfectly blends the old and new.
Fossil Raquel Three-Hand Date Stainless Steel Watch:
Fossil is for its quality and affordability. With its sleek design, the Raquel watch is a stylish and budget-friendly alternative to the Cartier Tank.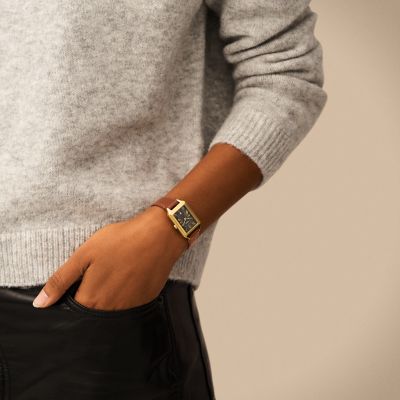 Invicta Women's 5377:
With its square face and diamond accents, this Invicta watch is a dazzling alternative to the Cartier Tank.
PORSAMO BLEU Karolina Diamond Leather Strap Watch, 21.5mm x 30mm – 0.06 ctw:
This exquisite piece by PORSAMO BLEU is a testament to affordable luxury. With its petite rectangular dial and genuine leather strap, the Karolina Diamond watch exudes a classic charm akin to the Cartier Tank. It is adorned with diamonds and offers a touch of opulence, making it an ideal gift for someone special this holiday season.
Timex Women's Meriden 21mm Watch:
The Timex Meriden watch is a nod to classic design with a contemporary twist. Its rectangular case and clean dial echo the Cartier Tank's elegance, while the 21mm size makes it a delicate choice for everyday wear. Renowned for its reliability and timeless appeal, a Timex watch like the Meriden is an excellent gift for those who appreciate understated style and quality craftsmanship without the luxury price tag.
Tissot Women's Watch T1281611601200 Heritage Porto Small Lady Mechanical:
Featuring a rectangular face and a leather band, this Tissot watch from the Heritage Porto series is reminiscent of the Cartier Tank's design. As a part of Tissot's esteemed collection, it offers elegance and precision, making it a worthy alternative to the Cartier Tank.
Casio LTP-V005D-1B:
Known for its durability and affordability, Casio offers a range of stylish and budget-friendly watches.
In conclusion, while the Cartier Tank is undoubtedly timeless, several affordable alternatives capture its essence without the hefty price tag. Whether you're looking for a luxury dupe or a budget-friendly option, there's something for everyone. 10 Cartier Tank Affordable Alternatives