The world of luxury fashion is ever-evolving, with brands continuously pushing boundaries and setting new standards. As we approach Winter 2024, several luxury brands are making waves in the fashion industry, promising to offer the crème de la crème of style and sophistication. But firstly, let's answer some of the most asked questions regarding this new term called "quiet luxury".
What defines a quiet luxury brands, and how are these brands setting themselves apart?
"Quiet luxury" is a term that encapsulates brands that prioritize understated elegance, timeless design, and impeccable craftsmanship over ostentatious displays of wealth. These brands often emphasize the intrinsic value of their products, focusing on the quality of materials, attention to detail, and the artistry behind each piece rather than overt branding or flashy logos.
Their commitment to authenticity and integrity sets "quiet luxury" brands apart. They often have a deep-rooted philosophy beyond fashion, emphasizing sustainability, ethical production, and respect for tradition. Brands like The Row, Khaite, Loro Piana, and Brunello Cucinelli, among others, exemplify this approach. Their designs are minimalist yet sophisticated, often characterized by neutral palettes, clean lines, and an impeccable attention to detail.
In a world where fast fashion and fleeting trends are prevalent, "quiet luxury" brands offer a refreshing contrast. They provide a sense of permanence, offering pieces to be cherished and passed down rather than discarded after a season. By staying true to their core values and prioritizing quality over quantity, these brands set themselves apart in luxury fashion.
Table of Contents
Here's a look at the Quiet Luxury Brands 2024 you need to watch next year:
The Row
Founded by the Olsen twins, Mary-Kate and Ashley, The Row has quickly ascended the ranks of luxury fashion. The brand is the epitome of "quiet luxury," emphasizing timeless elegance, impeccable tailoring, and high-quality materials. The Row's designs are minimalist yet sophisticated, often characterized by neutral palettes, clean lines, and meticulous attention to detail. For Winter 2024, The Row is expected to continue its legacy of understated luxury with a collection that seamlessly blends modern aesthetics with classic silhouettes. Whether it's their tailored coats, cashmere knits, or leather accessories, each piece from The Row exudes a sense of refined elegance.
Khaite
Khaite, founded by Catherine Holstein, has made a significant mark in the luxury fashion world with its blend of American sportswear influences and modern femininity. The brand is known for its striking balance between strength and softness, often juxtaposing structured designs with fluid silhouettes. Khaite's designs are functional and fashionable, making them a favorite among fashion enthusiasts. For Winter 2024, Khaite is anticipated to showcase a collection emphasizing its core values of contrast and evolution. Expect to see a range of tailored outerwear, luxurious knitwear, and statement accessories that reflect Khaite's unique design philosophy.
With their distinct design philosophies and commitment to craftsmanship, these brands are setting the season's trend. Whether you're looking for minimalist elegance or modern sophistication, these brands offer something for every fashion connoisseur.
Brunello Cucinelli, often referred to as the "king of cashmere," is renowned for its luxurious materials and timeless designs. The brand's philosophy revolves around humanistic capitalism, ensuring that every piece is crafted with care and respect. For Winter 2024, expect a collection that embodies the essence of Italian craftsmanship with a blend of modernity and tradition.
Kiton
Kiton is a symbol of timeless elegance, with its roots deeply embedded in Neapolitan sartorial tradition. Known for its bespoke tailoring and unparalleled craftsmanship, Kiton's Winter collection is anticipated to showcase a fusion of classic and contemporary, with a touch of Neapolitan flair.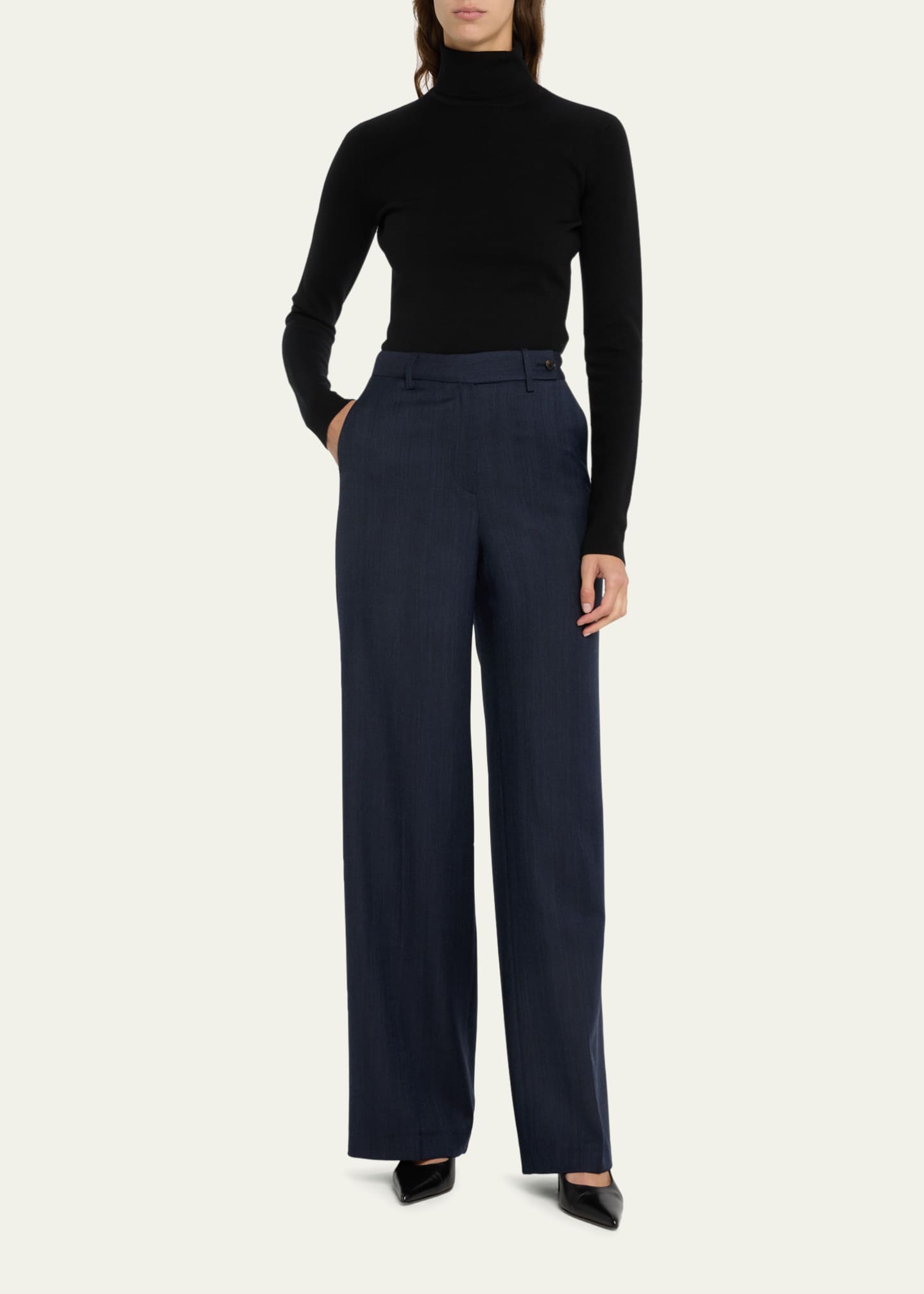 Nanushka
Nanushka, a Budapest-based brand, has rapidly gained recognition for its vegan leather products and sustainable practices. Their designs blend modern functionalism with a sprinkle of traditional craftsmanship. The upcoming Winter collection will likely highlight minimalist designs focusing on sustainability.
Moynat
With a legacy dating back to 1849, Moynat is one of the oldest French trunk-makers. Their expertise lies in crafting exquisite leather goods with a touch of Parisian elegance. Watch out for their range of handbags and trunks this winter, sure to be the epitome of luxury and sophistication.
Max Mara
Max Mara, an Italian fashion house, is synonymous with luxury ready-to-wear clothing. Their designs are a perfect blend of contemporary aesthetics with traditional Italian craftsmanship. The Winter 2024 collection is expected to feature elegant outerwear, including their iconic camel coats.
Jil Sander
Jil Sander, known for its minimalist designs, emphasizes clean lines and structured silhouettes. The brand's approach to fashion blends modernity with a touch of traditionalism. This Winter, anticipate a sophisticated and understated collection reflecting the brand's core values.
Jaeger-LeCoultre Watch
Jaeger-LeCoultre is a Swiss luxury watch and clock manufacturer crafting timepieces since 1833. Their watches are a testament to precision and innovation. For Winter 2024, expect functional timepieces and a work of art, showcasing intricate designs and impeccable craftsmanship.
Vacheron Constantin Watch
Established in 1755, Vacheron Constantin is one of the world's oldest watch manufacturers. Their timepieces are a blend of tradition, innovation, and craftsmanship. This Winter, look out for their collection that promises to blend technical prowess with aesthetic beauty. Perfect watch brand to own as quiet luxury brands 2024
Loro Piana
Loro Piana, a brand that exudes luxury, is known for its high-quality cashmere and woolen products. Their designs are timeless, and each piece is crafted with meticulous attention to detail. The Winter 2024 collection is likely to be a blend of elegance, comfort, and style.
Goyard
Goyard, a Parisian brand, has been crafting luxury trunks and leather goods since 1853. Their products are a symbol of elegance and are crafted using traditional techniques. This Winter, their collection is expected to showcase a range of handbags, trunks, and accessories that reflect the brand's rich heritage.
Totême
Totême, with its Scandinavian roots, brings a fresh perspective to luxury fashion. Clean lines, a neutral palette, and meticulous attention to detail characterize their designs. For Winter 2024, expect a collection that is both modern and timeless.
In conclusion, it promises elegance and sophistication, with Quiet Luxury Brands 2024 offering the best style and craftsmanship. Whether you're a fashion enthusiast or simply looking to update your wardrobe, these brands are the ones to watch.